Ten Historic 1800's Wichita Homes You Can Still See Today
Posted by Steven Myers on Monday, May 10, 2021 at 10:00 AM
By Steven Myers / May 10, 2021
Comment
In the late 1880's, America was booming. Thanks to the efforts of Col. Marsh Murdock, the founding editor and publisher of The Wichita Eagle, people were moving to Kansas and Wichita in record numbers. From 1881-1897, more than 200,000 people settled in Kansas.
All of this meant a huge real estate boom for the Wichita area as money from investors poured in. A city hall and courthouse were built, bridges went up, and streets were paved. In 1887, only New York and Kansas City, Mo. generated more real estate sales than Wichita.
Some of the area's businessmen decided to build elaborate homes that are still standing more than 130 years later. Read on to learn more about these homes that you can still drive by* today.
---
Pratt/Campbell House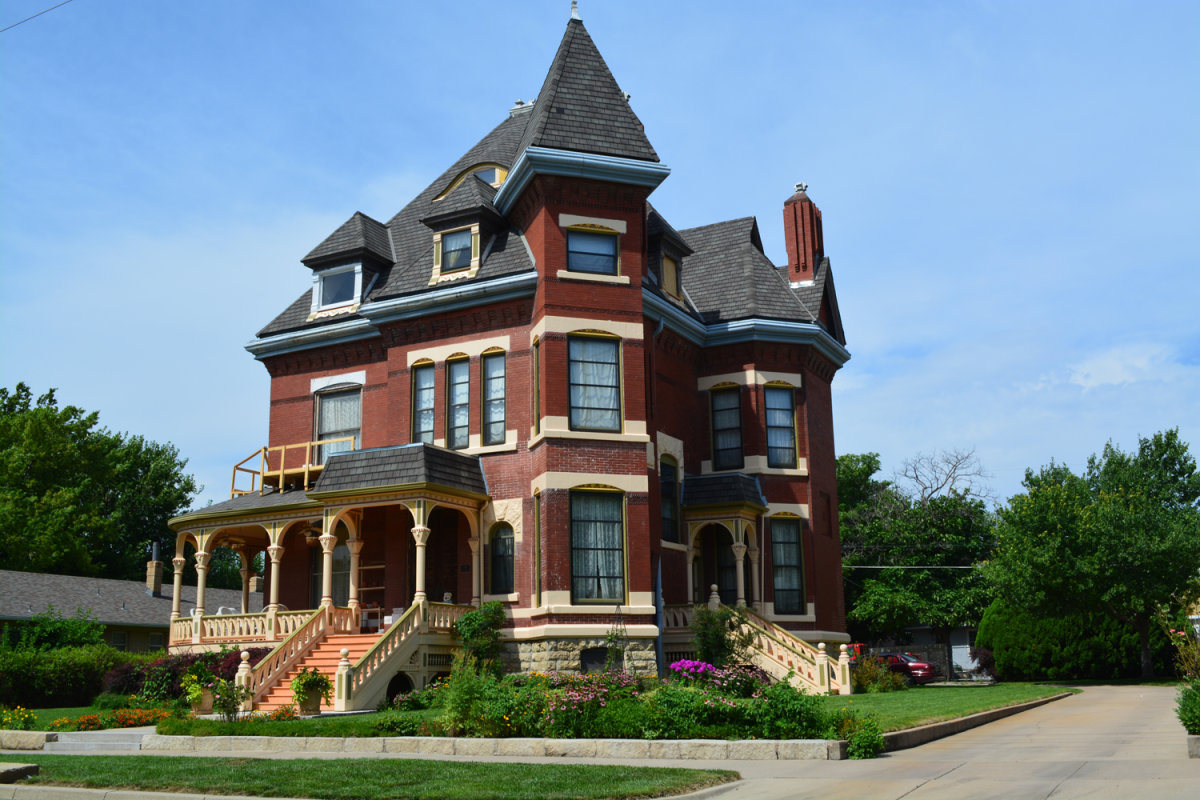 Located at 1313 N. Emporia, the Pratt/Campbell House was built in 1887 by W.O. Sternberg for George L. Pratt, owner of Pratt Lumber Company. In 1899, the home was purchased by M.C. Campbell, a developer of the Kansas livestock industry.
The architectural style of this home is Chateauesque with Richardsonian Romanesque and Queen Anne influences. The house is distinguished by the carved stone lintels over tall narrow windows, molded bands in the brick that extend around the house, and an imposing roof line with dormers and crest ornaments.
Judge Wall House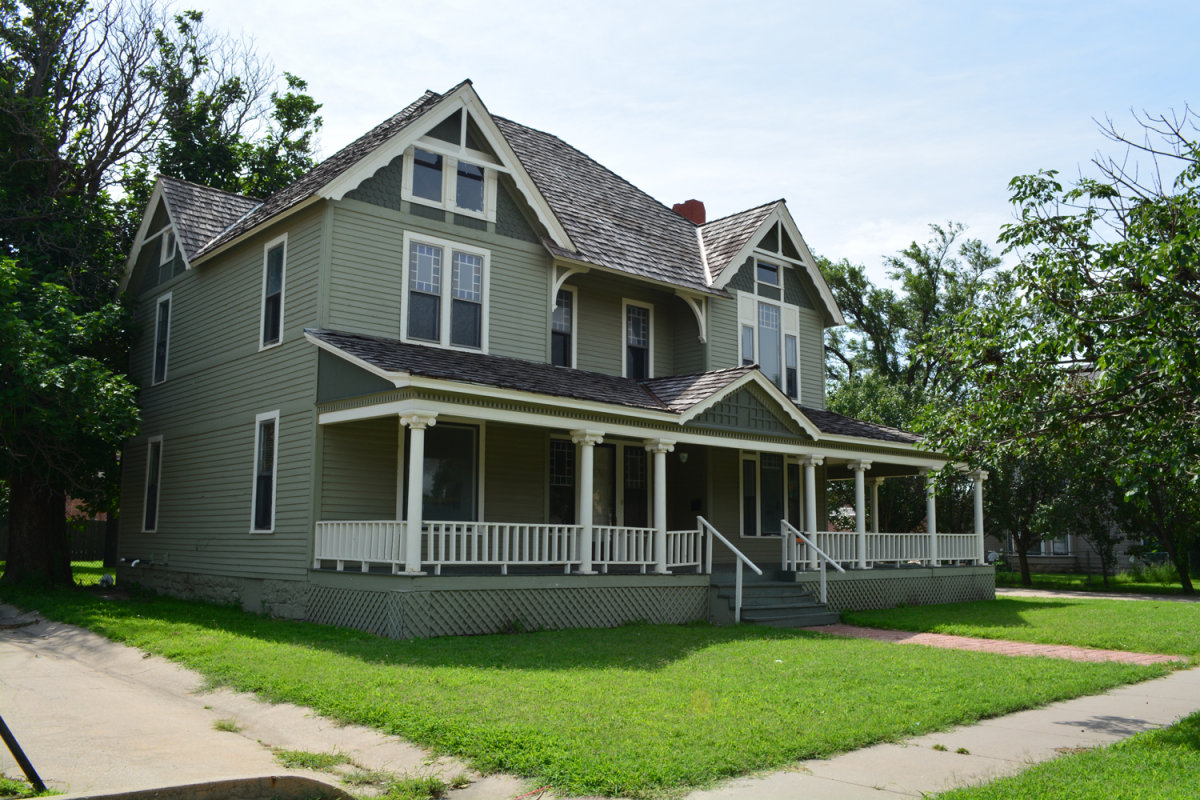 Located at 622 N. St. Francis, this home was built in 1887 by attorney Thomas B. Wall, the youngest appointed district court judge in Kansas at the time. Wall occupied the home until his death in 1906.
Unusual in its design for the period, this Victorian-style home has a long wrap around veranda, second story speaker's balcony, and Queen Anne-style windows. It has horizontal lines, light color, large rooms, and boasts extensive interior fretwork in the entryway.
Enoch Dodge House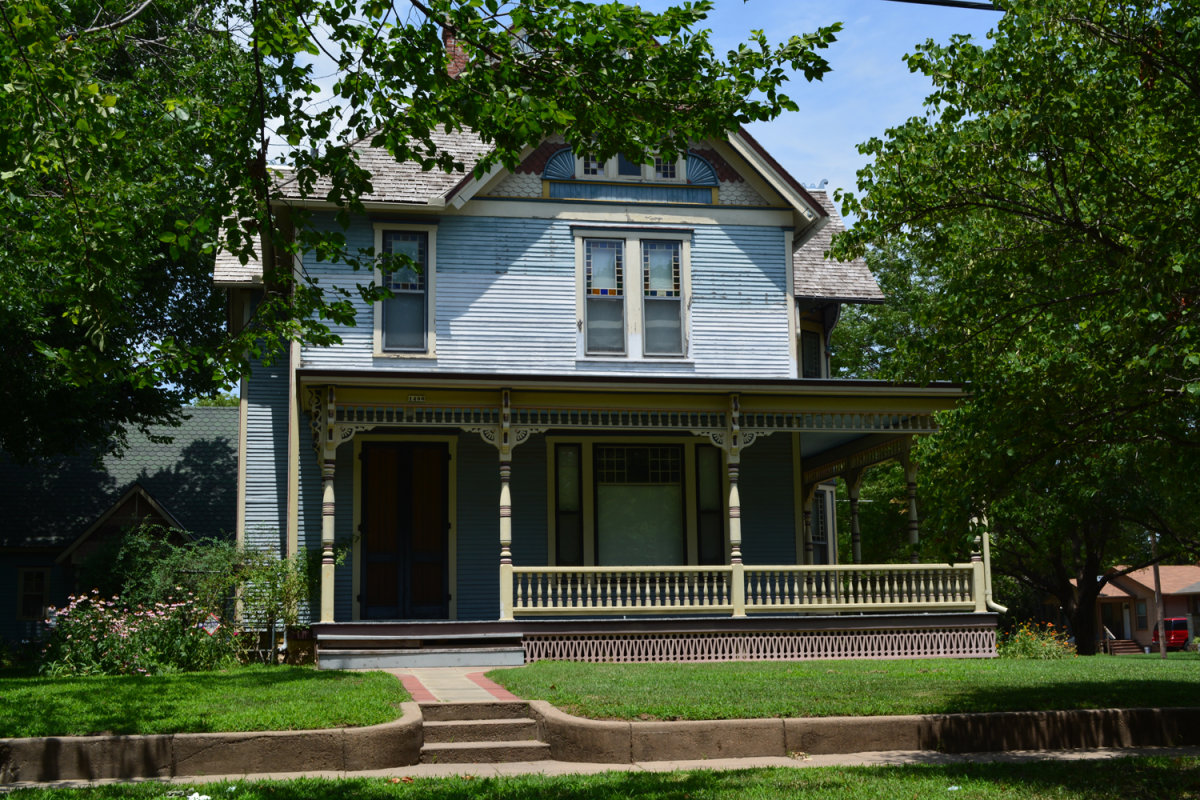 Located at 1406 W. 2nd St., this home was built in 1887 by Enoch Dodge, one of the first two settlers in the Delano Township and a principal developer in the 1880s. The streets in the surrounding area (Dodge, Elizabeth, Glenn, Martinson, and Fern) were named after Enoch's family.
The house was built in the Queen Anne style with Eastlake detailing typified by the lavish use of perforation patterns, curved brackets with sunburst designs, spindled posts and balustrades. The two-story, fourteen room home has a wrap around front porch, bay windows, original stained glass, and decorative knobs.
Hillside Cottage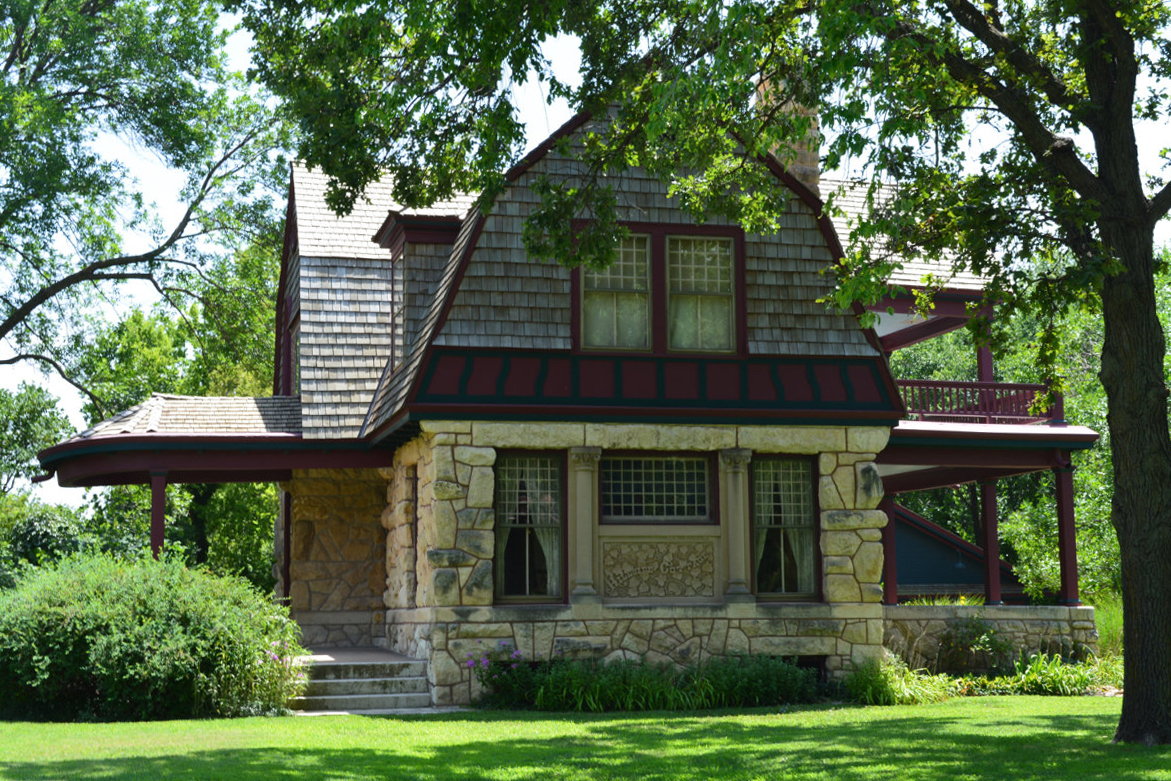 Located at 303 Circle Dr., this home was built in 1887 by architect Wills Proudfoot as his personal residence. It was also leased to the Wichita Country Club for two years in 1901 as a clubhouse for gentleman golfers.
Proudfoot designed the Colonial Revival cottage with an English gambrel roof, an elliptical gable window, a 15-foot-tall colored class window, and a circular entrance porch supported by Doric columns. The first floor walls and basement a built out of limestone native to the area.
The Aviary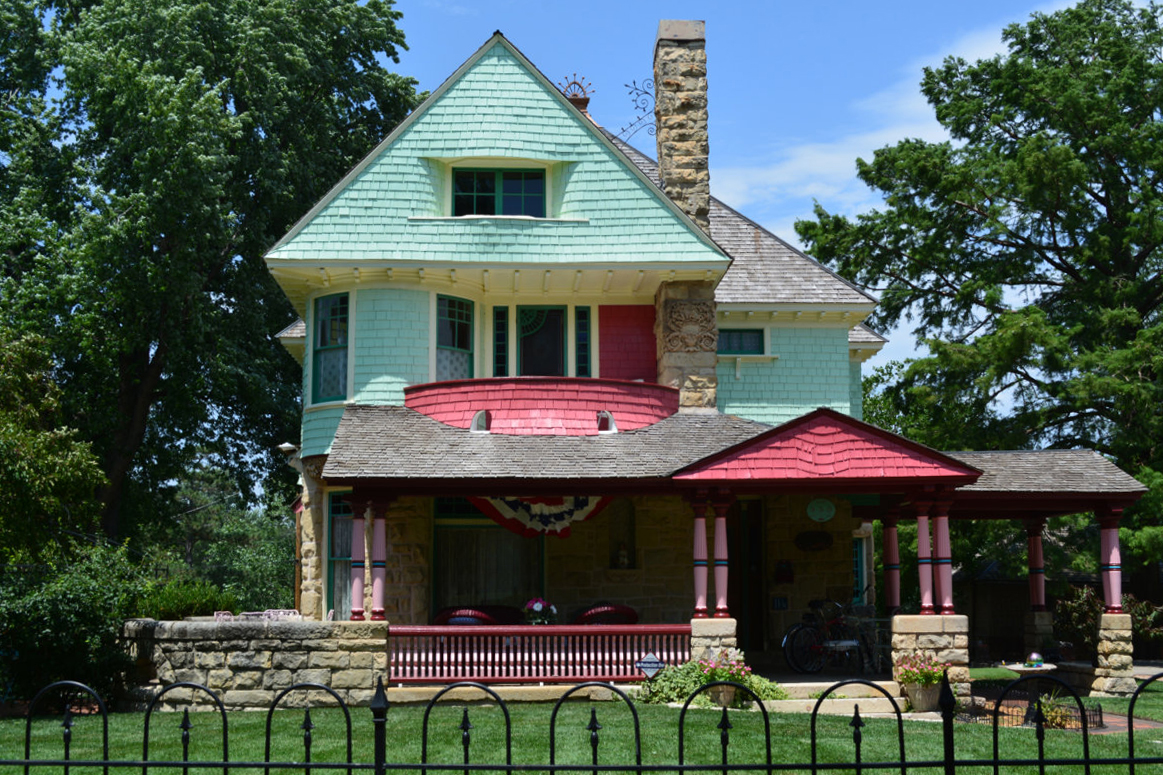 Located at 330 Circle Dr., The Aviary was built in 1887 for George Bird, Wills Proudfoot's business partner. This hosue is just down the street from Proudfoot's.
Bird designed the home with a mixture of Richardsonian Romanesque and Queen Anne styles. The bird motif in the balcony grillwork and the ornamental iron work at the roof peak adds a distinctive appearance to this unique home.
Carlisle House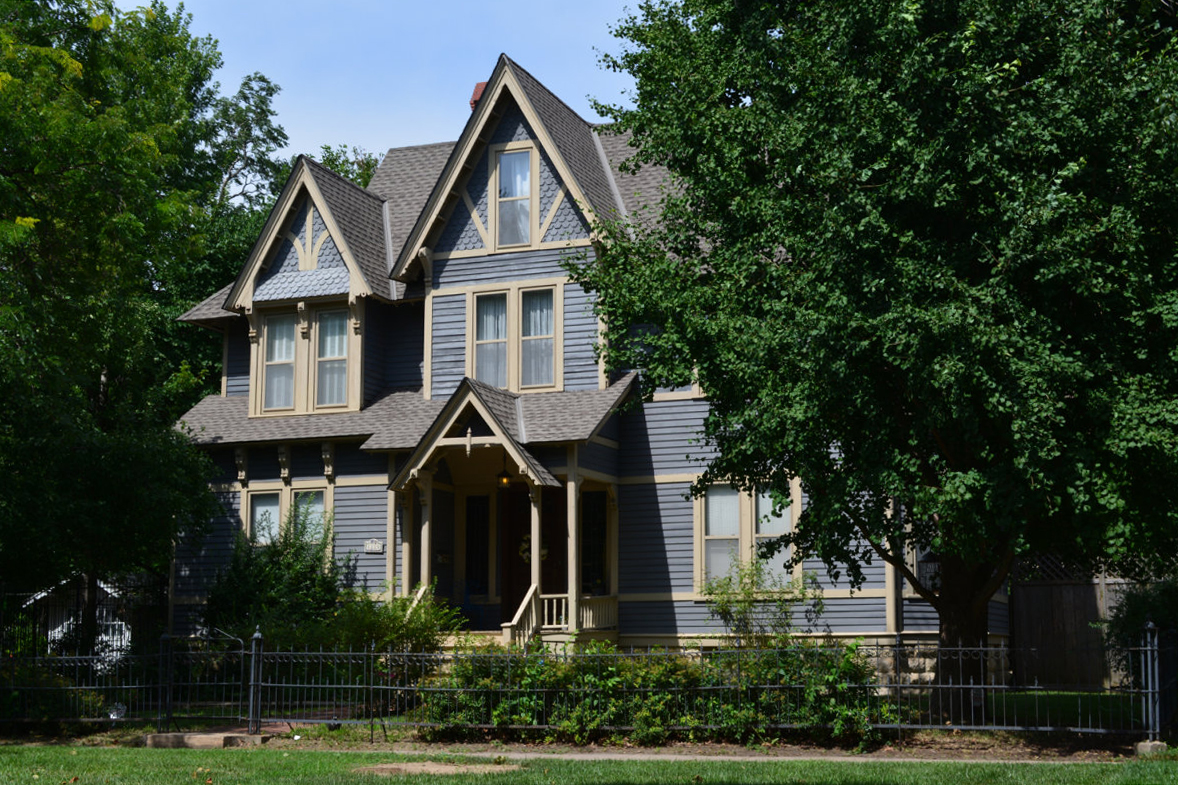 Located at 1215 N. Emporia, this house was built in 1886 for Wichita attorney W.K. Carlisle. In 1977, the home was in danger of being demolished, but an extensive community effort saved it.
The home is of the Victorian Eclectic architectural style and borrows details and influences from the Stick and Queen Anne styles. The two-and-a-half-story house features horizontal bands, steeply pitched cross gables, and overhanging eaves.
Holyoke Cottage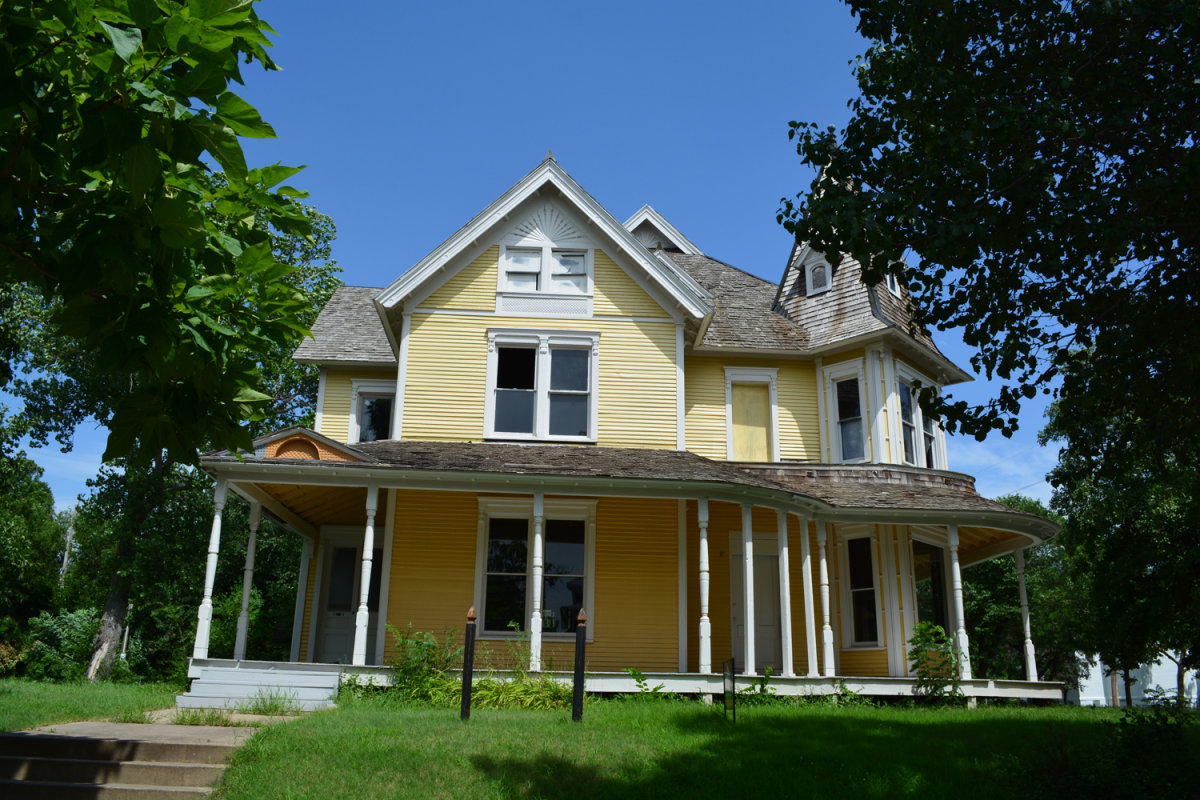 Located at 1700 N. Holyoke, this late Victorian home was built in 1880 for Congregational Church minister J.H. Parker who helped found Fairmount College.
The house was later home to Dean Flora Clough of Fairmount, who was among the founders of the American Association of University Women. From 1897-1918, the house served as the college's women's dorm.
Senator Chester Long House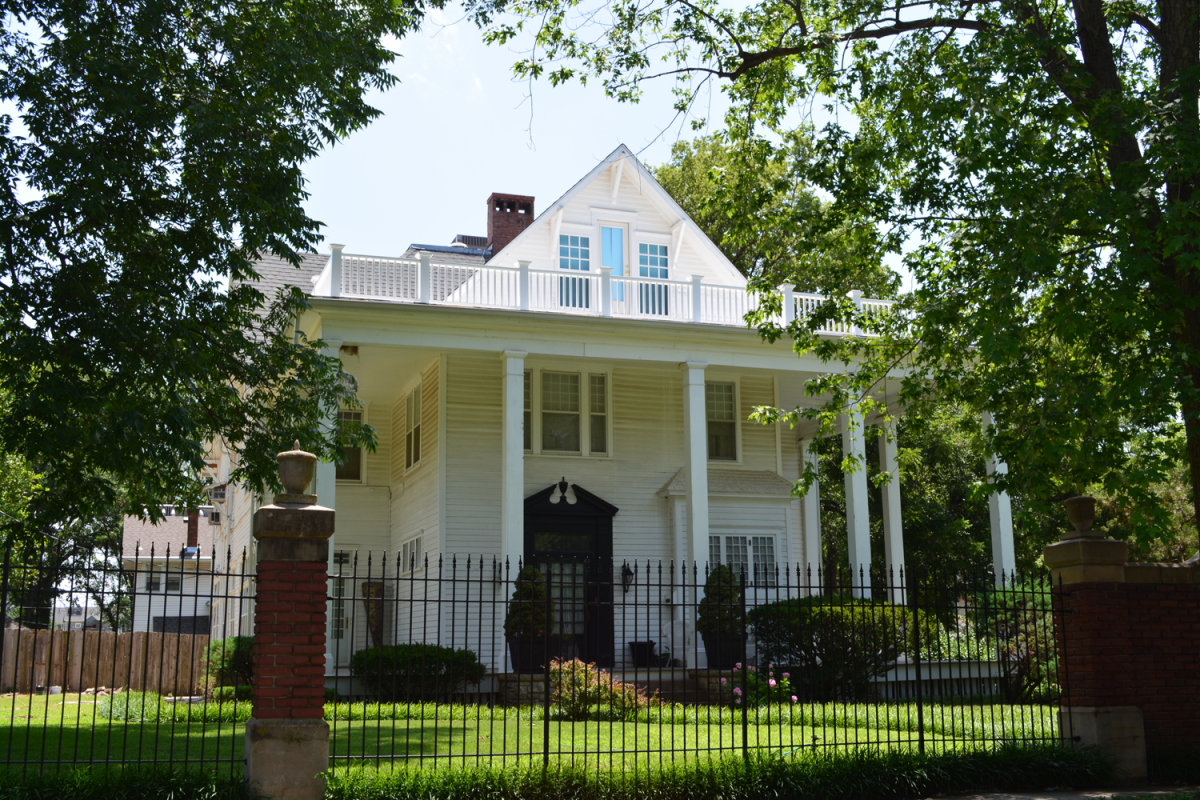 Located at 3401 E. 2nd St., this home was built in 1887 by Wichita investor Hardy Solomon. The property assumed significance in 1911 when Senator Chester Long purchased it.
The large, Victorian style home was originally built as a farmhouse and was later modified to add the columns and elevated porch. The many rooms were often open for parties and political gatherings.
Campbell Castle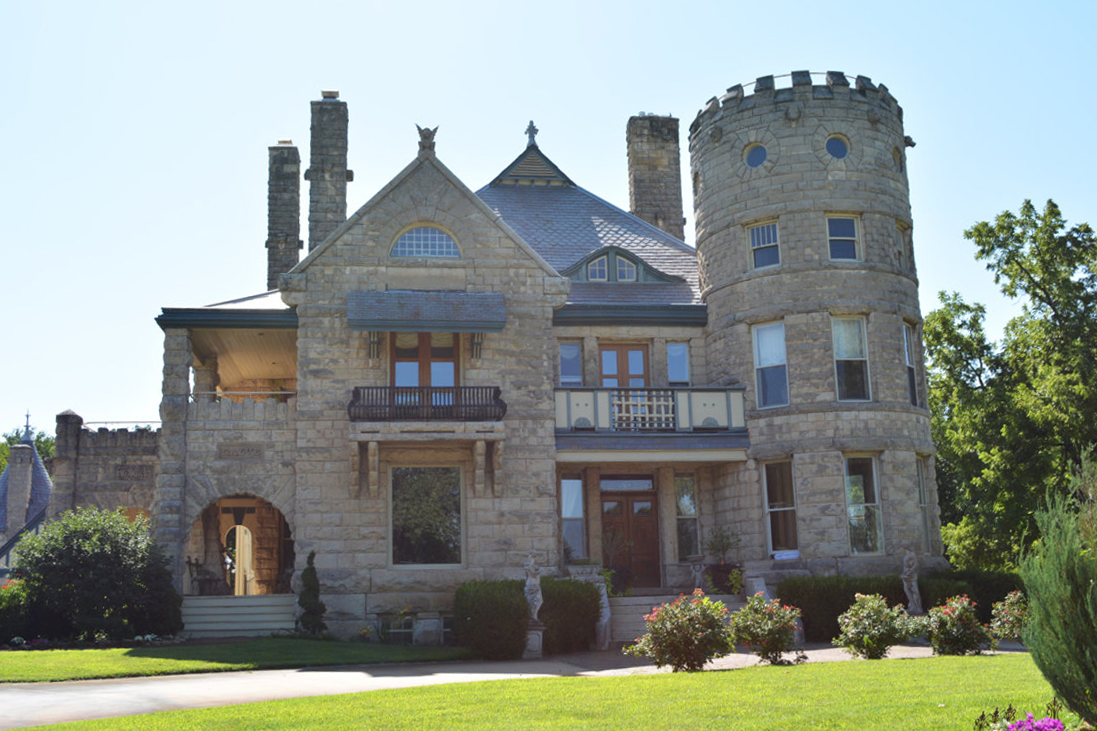 Located at 1155 N. River Blvd., the Campbell Castle was built in 1888 by cattleman Burton Harvey Campbell. In 1994, the home was purchased a reimagined as a bed and breakfast.
This house is the only remaining castle style residence from the Wichita building boom of the 1880's. Modeled after a feudal Scottish castle, the original interior woodwork features a variety of woods, including walnut, mahogany, and cherry. The home boasts eight original fireplaces found on several floors. Constructed of rough-hewn limestone blocks, the home also features a three-story castellated tower with carved stone animals.
Harding House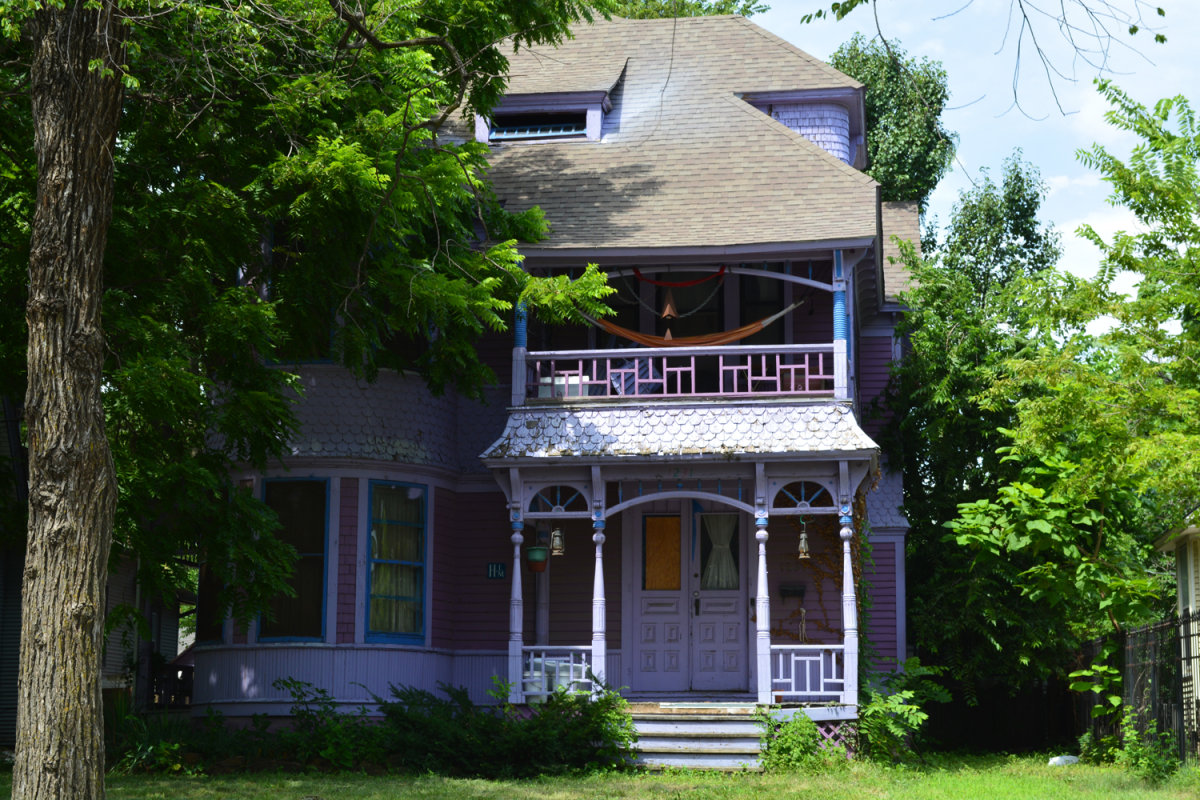 Located at 1231 N. Waco, this home was built in 1890 for railroad superintendent Russell Harding. It was part of the redevelopment of Wichita after the economic burst of 1889.
The Harding House is an excellent example of Queen Anne Victorian architecture, complete with exterior and interior woodwork unique to the late 1880's. This home features a second floor balcony and first floor poorches with extensive Eastlake trim and spindle work and a rounded tower.